Rocky Point Trails Dig Party
Posted on: March 31st, 2022
"At the end of the day, it felt good to look at what we built + the group of people who worked together to make it happen"

We are all have a part to play in our worlds and sometimes doing a simple thing can bring some stoke as well as make the shared experience better for our community.
Supporting Local Trails
Breadwinner and Sugar Wheel Works have long been supporters of the Northwest Trail Alliance (NWTA), the organization that has done a ton for local mountain bike trails and local riding advocacy.
Portland loves to pat its own back for being a standout cycling city, and even gained praise for the mountain bike master plan years ago. But let's be honest: words are cheap and little has changed to create trails that are accessible without driving to the trailhead. That's just one of the reasons we're eager to support local trails however we can.
Rocky Point Magic
The Rocky Point trail system is about 30 minutes NW of the city and has some really great riding. The land is owned by a timber company but has been actively cared for and managed by a passionate group of cyclists for decades and the riding there reflects the energy invested by a lot of locals. NWTA puts together weekly work parties to continually create, groom and maintain trails for everyone to use. The level of enthusiasm is infectious and it's great to see all sorts of riders working to enjoy the local riding.
Dig Day!
Metropolis Cycles, fellow bike neighbors here on Page St., along with the Breadwinner crew and a few other friends set out for a Rocky Point Dig Day a few weeks ago. It was a great way to transition from winter to spring as we put our shovels where our heart is – giving back to the trails.
The air was cool and with about 30 people showing up ready to get dirty, we split up into 3 groups to work on some new intermediate trails on the south side of Rocky Point road. Our crew leader and volunteer coordinator, Geoff, helped steer the work in a way that balanced fun lines in the dirt with good land management so the trails drain and hold up for everyone's enjoyment.
We worked on about a mile's worth of trail that is still in development and we wrapped up with high fives and shared treats.
At the end of the day, it felt good to look at what we built and the group of people who all worked together to make it happen.
Big Thanks
Thanks to NWTA for doing the good work, Metropolis Cycle Repair for being involved on all those rainy days, Geoff and Scooter for managing the herd of cats and to all the people who showed up to get dirty.
We all vote with our wallets and (sometimes dirty) hands, so please support those people, organizations and businesses that represent what you love.
Find out more about NW Trail Alliance and how you can join their trail work parties on their website.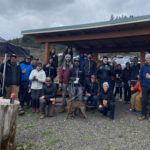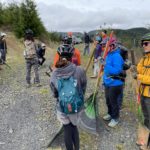 ---