Breadwinner Owner's Channel 003: Oscar's Custom 20″er
Posted on: September 12th, 2016
Words by Tony Pereira
My son Oscar started riding a balance bike when he was 18 months old. He took to it quickly and got on a pedal bike when he was 3. We've spent lots of time at our local indoor bike park, The Lumberyard, where he has learned so many skills. This is Oscar's third summer on a pedal bike. Almost 6 now, he outgrew his old 16″ wheeled bike over the winter and was also ready for handbrakes so we could do some trail riding this year. His new bike is  a 20″ with a suspension-corrected rigid fork, 140mm cranks (cut and tapped Shimano Deore). When he needs it I'll swap in a suspension fork. I'm hoping he'll get 3 years out of it.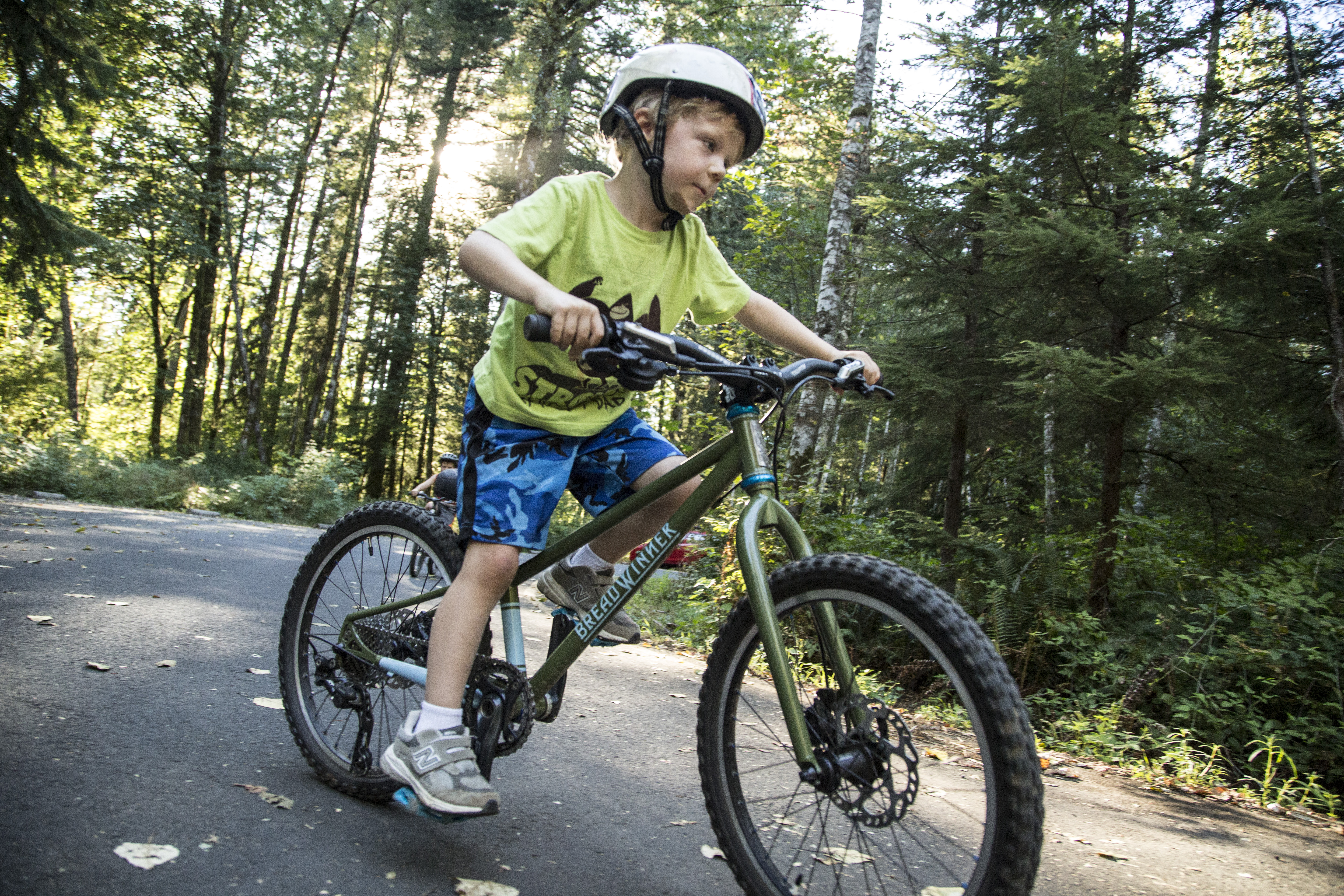 Building this frame was the most fun I've had building a bike in many years. There's nothing I like more than riding with Oscar and I feel very lucky to be able to build him a sweet bike for those rides. I looked at a few kid's bikes to help figure out the geometry and eventually settled on a 69 degree head tube angle. He's been ripping it up all summer, so I must have done something right.
Tubing is all scrap from around the shop. The down tube is the Columbus Spirit 31.8 tube that we use as a downtube on the B-Road and Holeshot and as toptube on the Lolo. The top tube is a NOS vintage 1″ Tange Prestige tube. I had it in a box from a bunch of materials I bought when I first started building. The seat tube was a mis-mitered Columbus Spirit tube. Bottom bracket shell was one that had been drilled wrong. I welded up the extra holes and made it work. Chainstays ere also out of the mis-cut pile. Seatstays are 1/2″ .028″ 4130 that I bent to an s-curve. It's amazing how much material I have laying around after doing this for 10+ years.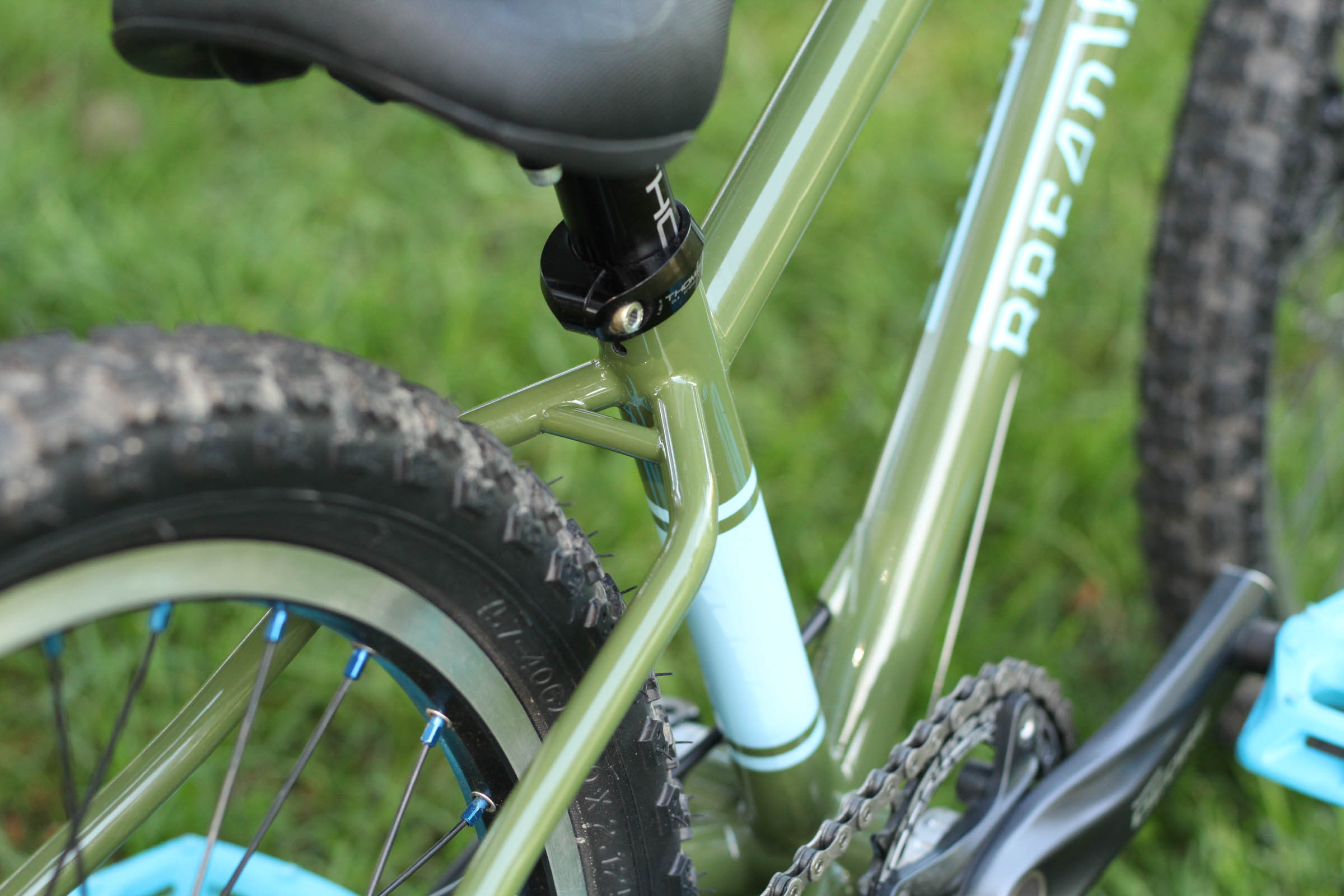 I built the wheels too. Sun CR-18 with SLX hubs. Alloy nipples and single-butted spokes. Our friends at Sugar Wheel Works cut the spokes for me.
Oscar loves the bike. Going from a coaster brake bike to handbrakes makes trail riding possible and he's been having a blast at Sandy Ridge. I love seeing him standing tall with his elbows out, rallying through the turns.
Parts are as listed:
• Custom Breadwinner frame and fork
• Shimano SLX hubs and Sun CR-18 rims
• Chris King Headset
• Shimano Deore Cranks and Raceface Narrow Wide 32t
• Shimano SLX shifters, derailleur and chain
• Shimano SLX brakes and 160mm rotors
• Odyssey Mike Aitken Saddle
• TruVativ Hussefelt Riserbar and 40mm stem
• Thomson Elite seatpost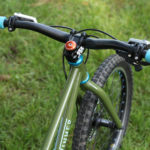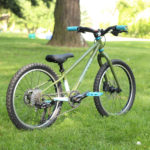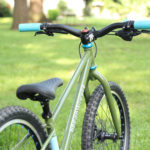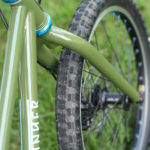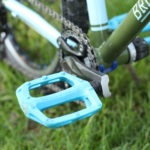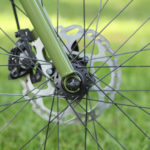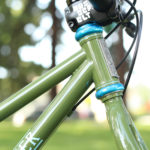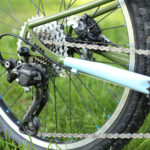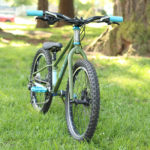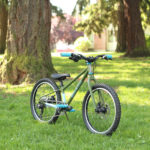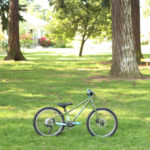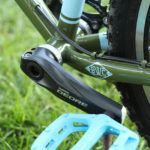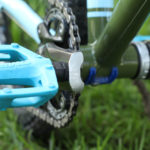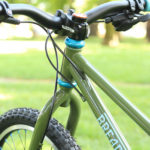 ---
Tags:
breadwinner owners channel
,
custom
,
custom paint
,
green
,
komorebi green
,
mtb
,
owners channel
,
shimano
,
turquoise chris king
,
xt