Welcome to the Family, Mollie!
Posted on: August 25th, 2020
"It's great to be a part of a team that values their people: the people who ride Breadwinners, the people who help create them, and all the people who make up the greater bike community in Portland and beyond."
Mollie Futterman is a bike touring aficionado and we are proud to welcome her as the latest member of the Breadwinner Cycles building team.
Mollie says she as been riding bikes her whole life, but that she truly caught the bug when she moved to Portland (likely story) and began planning adventures. "To prepare for my first long, mostly-solo bike tour I began to learn some bike repair beyond basic maintenance… and then more and more, finding how satisfying it is to understand the mechanisms of how a particular thing works. After my bike tour I got my first bike shop job and just kept learning about all things bicycle."
Mollie has worked her way through various shop positions, and we're fortunate that she eventually worked her way toward custom bike builds. This transition was a very personal choice for Mollie.
What drew you to working on custom bike builds?
So… I'm really short. At 5 feet tall there aren't a lot of adventure-ready production bikes that fit me well and ride well and have all the features I might be looking for. Not to mention that production bikes are overbuilt by design, which means I'm pushing practically a third of my body weight in the bike alone.
I'm also a bike fitter (currently working out of Gladys Bikes, heyo!) and I began daydreaming about exactly what I wanted in a custom built bike in terms of fit, geometry, tubing specs and all the braze ons. At a certain point I got it in my head that I would just learn how to build the dream bike myself, because I like learning new skills and making things. Of course after building my first bike I have so, so many improvements and changes I'd like to make for a Version Two. Then I'll have a great piece of art to hang on my wall – my first ever handbuilt frame.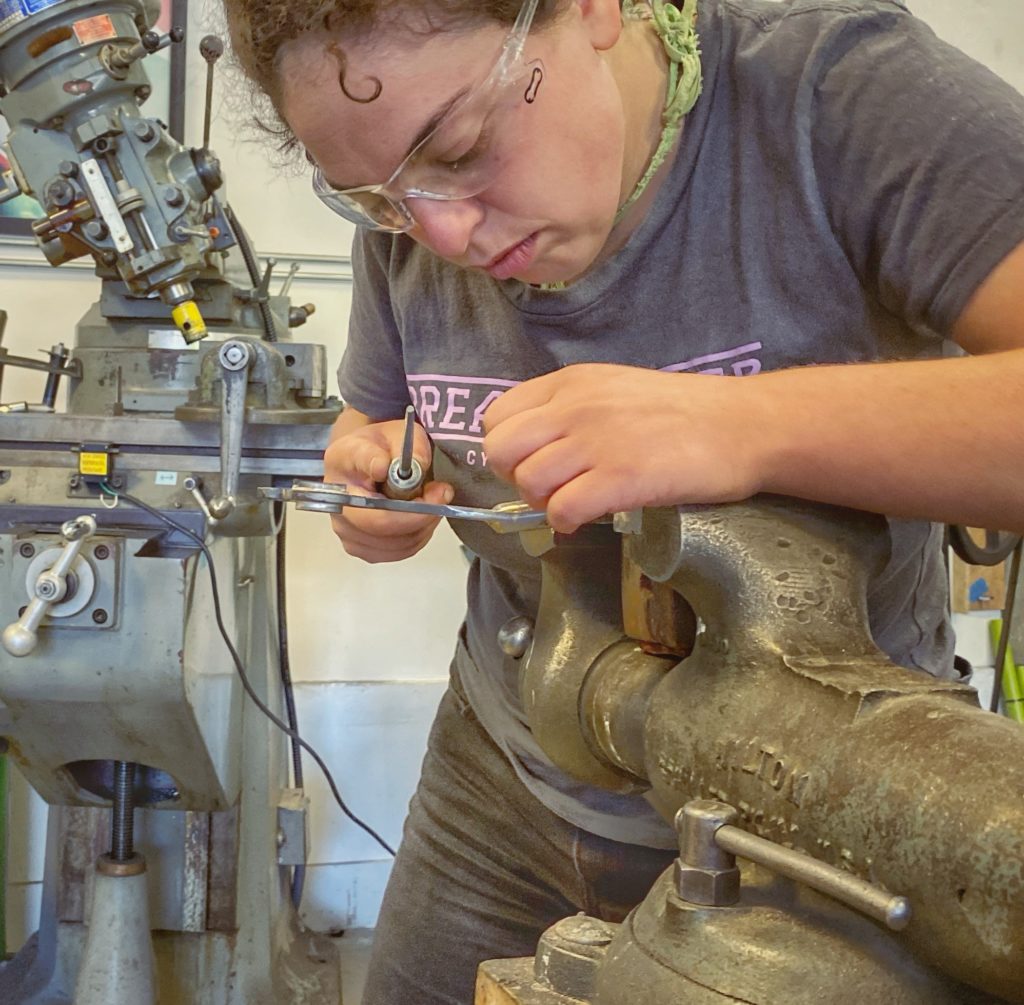 What do you like about the bike building process?
I love looking at the build spec for a particular bike and imagining how the bike might handle based on geometry, what the rider's dimensions and position on the bike might be, what terrain they'll be riding over… Since I'm not a part of the customer process I can let my imagination take over, thinking about all the places a particular bike is capable of taking its rider. Also, I find brazing to be incredibly meditative: to watch brass or silver flow over hot steel, using the heat of the torch to control the movement. It's such a beautiful way to build a bicycle.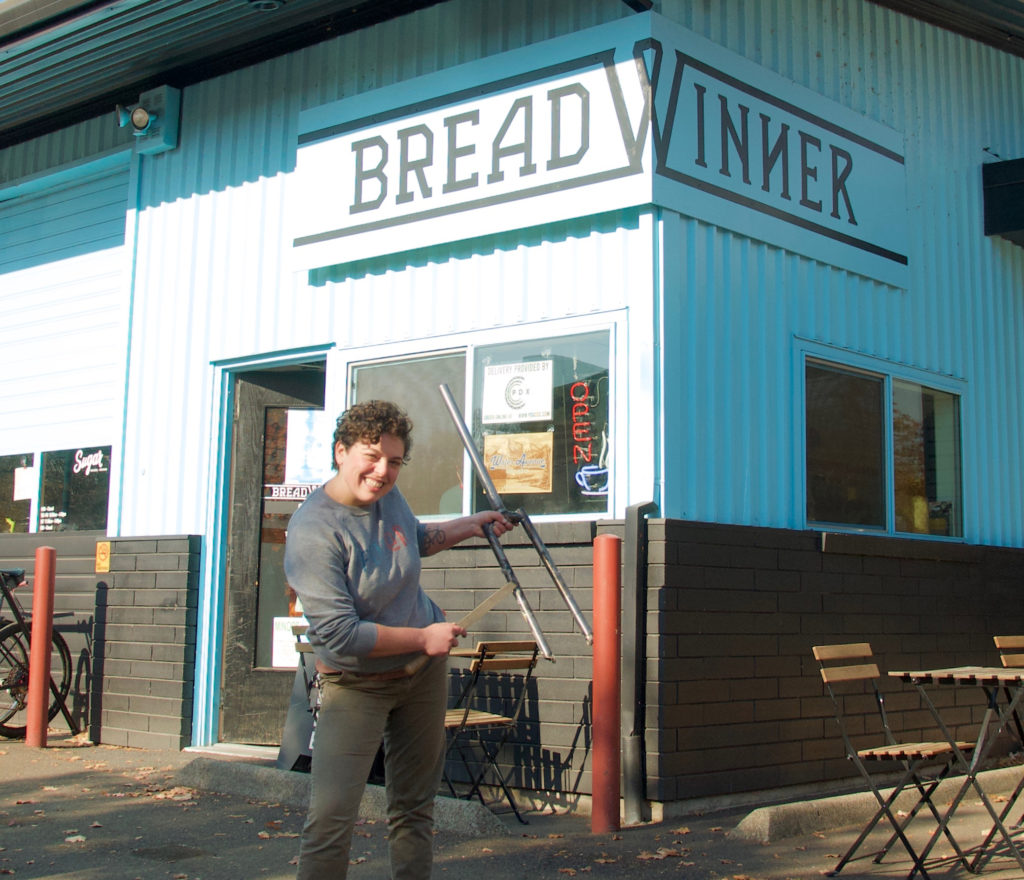 What is it like to be a part of the Breadwinner team?
Getting to learn from Ira and Tony, with so much experience between them, often feels like a pinch-me-I'm-dreaming scene. Last year I built my first bike during the fillet brazing course at United Bicycle Institute.  Then Jackie Mautner, our former Production Manager, brought me on board at Breadwinner. The amount that I've been able to learn from those three in such a short time is ridiculous, and I know I still have so much more to learn.
Ira and I often talk about the difference between striving for excellence and chasing perfection. As a borderline perfectionist, this is such a good lesson for me in both bike building and life.
It's great to be a part of a team that values their people: the people who ride Breadwinners, the people who help create them, and all the people who make up the greater bike community in Portland and beyond.

As a bike touring aficionado, where are some of your fave places to ride?
I still feel like I'm exploring our backyard here in the Pacific Northwest- Oregon and Washington alone are so vast, and it feels like I've barely scratched the surface. My favorite rides have been the ones where I leave from my house, biking or perhaps incorporating a train or ferry to ramble with some good friends in the mountains and forests. The Oregon Outback was an instant favorite, and both Mt. Hood and the coast continue to provide hidden gems and easy weekend escapes.
Last year I went back to my hometown in Upstate New York for a three day tour among the waterfalls and fall foliage, with coyotes lulling me to sleep every night. That was a really special trip – experiencing the forgotten yet intimately familiar smells of the land and air, moving through that terrain on two wheels for the first time. The rural/gravel riding out there is so accessible, and there are some really cool rail trails and sweet towns to explore. I can't wait to go back and do more riding there in the future.

As someone who has spent a lot of time living on your bike, can you share with us some of your hacks? Your personal tips or tricks that makes everything go better out there on the rugged road?
Being small and having small bikes means I have to be pretty particular about the way I pack my bike if I'm not using panniers. Maybe that's my bike touring superpower? Otherwise: snacks, swim breaks and campfires at night (first check for and comply with fire danger!)

What trends happening in bike culture or the bike industry have you inspired right now?
Manufacturers are finally beginning to design products in earnest that support diverse bodies. From bikes, saddles, and bibs, to representation in marketing and an embrace of ways of cycling that does not revolve around go-fast go-hard do-wheelies culture. It's far from perfect, but it's a start.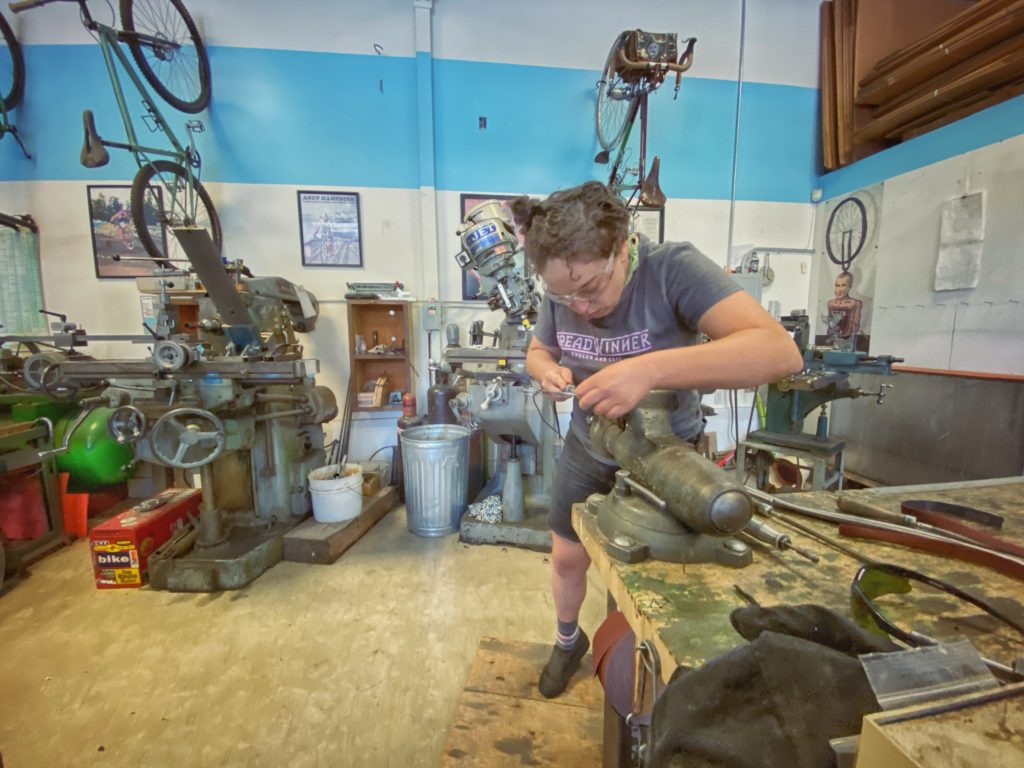 On living in Portland
All the diverse ways that people engage with the bicycle in Portland continually surprise me. I've met some of the coolest people through various aspects of the cycling community. And I don't think I'd be building bikes right now if I didn't live in Portland – the opportunities for bike fun abound!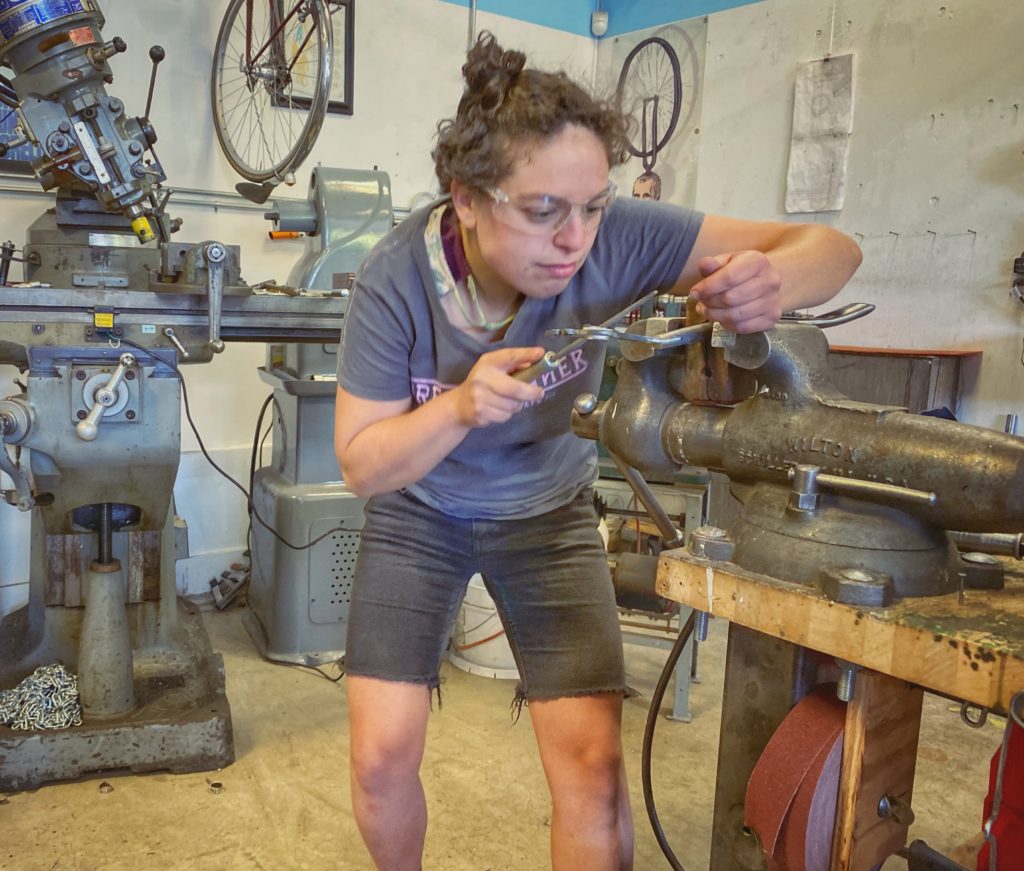 ---