Meet the Rider: Perfect for the Italian Countryside
Posted on: November 4th, 2019
Elliott Hill is no stranger to finding the best in athletic gear, and he's thankful he found Breadwinner Cycles.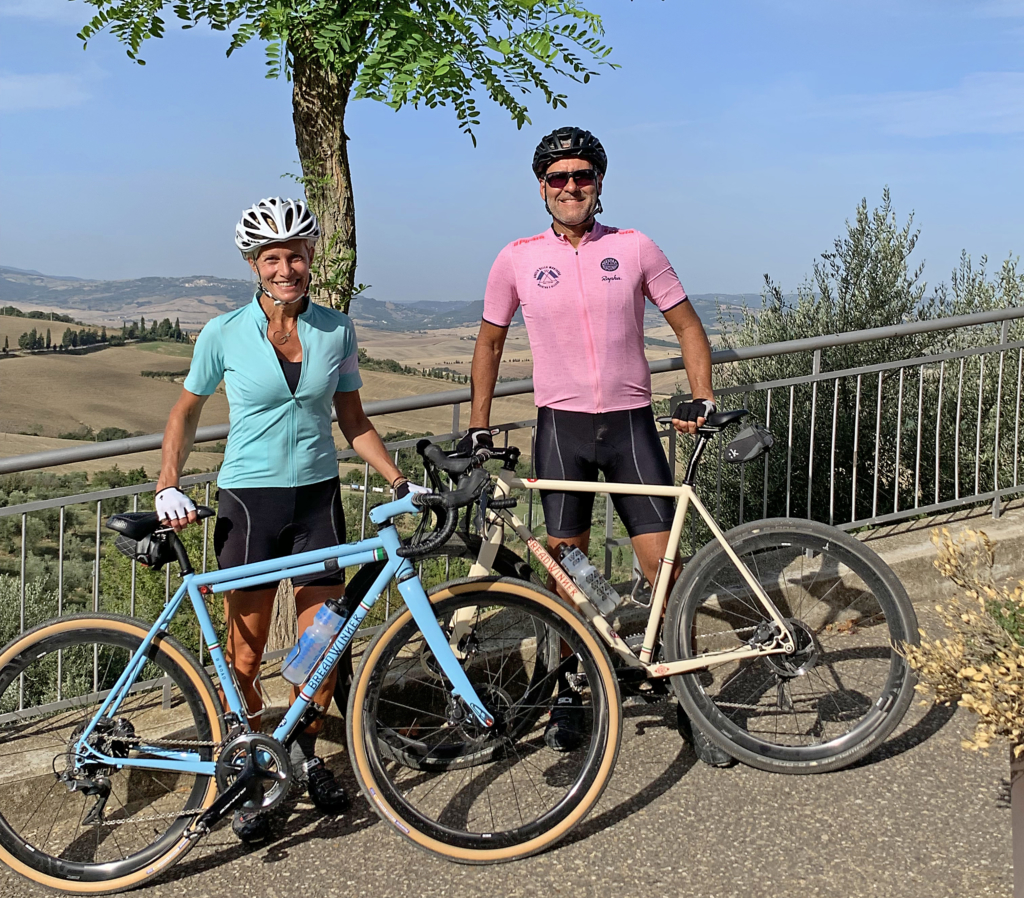 RIDERS Elliott and Gina Hill
BIKE B-Road
LOCATION Tuscany
THE ADVENTURE Riding mixed terrain to explore the Italian countryside
A Gorgeous Home Away From Home
Elliott has held senior leadership roles at Nike since 1988 and is currently the company's President of Consumer and Marketplace. When he's not busy steering the ship from his homebase here in the Pacific Northwest, Elliott and his wife Gina like to ride bikes in Italy, where they have a second home.

Ordering a Custom Bike From Breadwinner Cycles
"We regularly travel to Italy where we ride on dirt and paved roads, so we wanted gravel grinders to get the most enjoyment out of our riding. We had never owned a gravel bike so we did some research and discovered Breadwinner.  Once we learned they were from Northeast Portland (where we live), we were sold on Breadwinner, and on the idea of having custom Portland-made bicycles in Italy."
Elliott says it was easy to order handbuilt steel bikes from Breadwinner. "Everything went very smoothly and was just as promised. The Breadwinner team was a great partner in the design and build processes."
Exploring the Italian Countryside by Bike
Now that they have bikes they love riding, Elliott says they simply keep their Breadwinner B-roads in the place they were designed for. "We leave our Breadwinners in Italy and ride them every time we visit. It is a nice way to for us celebrate our Portland roots while participating in one of Italy's national sports."
Elliott says there are endless benefits to adventuring through Italy by bike. "Riding a bike is a great way to explore a country. It is a more up close and personal way of seeing the countryside and visiting the small towns. And, we don't feel as guilty eating all the wonderful food after we get in our ride!"
But even in this land that's known for a deeply-rooted cycling heritage, Elliott says their Breadwinners certainly stand out and attract attention. "In the part of Italy where we live, people still ride road bikes on pavement and mountain bikes on gravel. So as you might expect, we get a lot of interesting looks when we ride our gravel grinders with 38mm tires on the road, and on the country roads."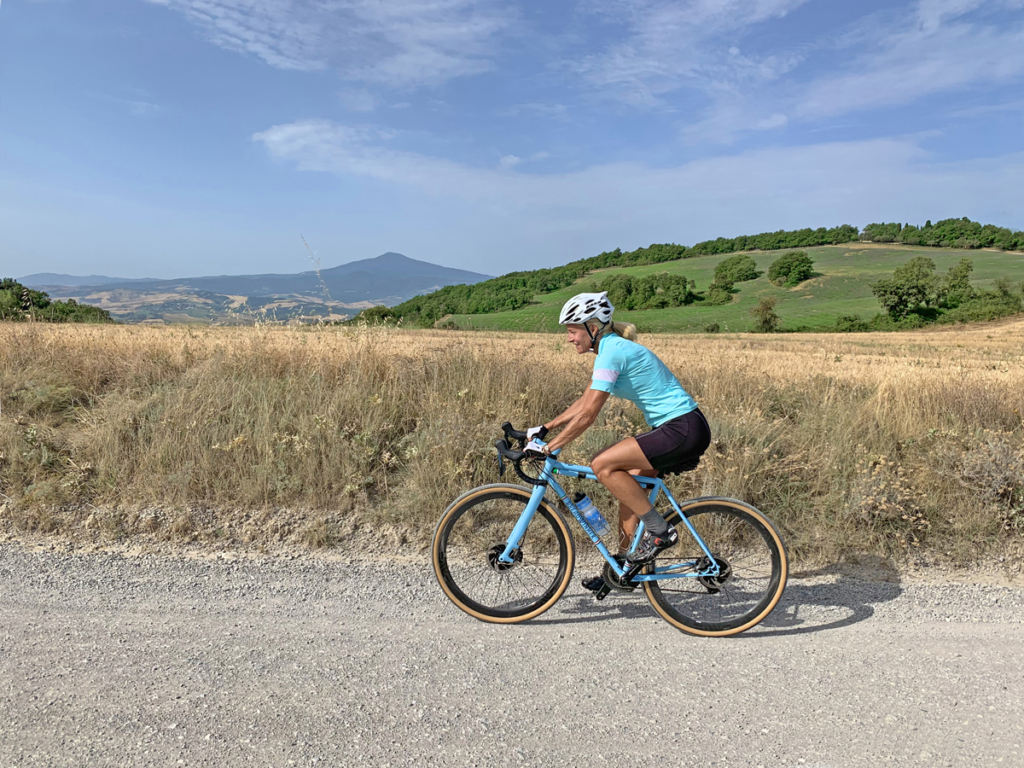 Selecting the Right Bike for the Adventure
The bikes that we designed with the Hills have worked out well for the type of riding they enjoy doing in Italy. Take their most recent ride – a nice mix of everything. Here's how Elliott describes it:
"We recently rode a Tuscany countryside loop: from our house to Pienza to Monticchiello and back to our house. The ride started on gravel, moved to pavement and ended on gravel. It had nice descents, climbs, more climbs and some flats. This ride had all the sites and the smells of the country and the scenic, small hilltop villages."
Overall, Elliott says he and Gina love the fit and the ride of their custom Breadwinner bikes. Their only wish? "We just wish we had more time in Italy to ride our bikes!"
Photo Gallery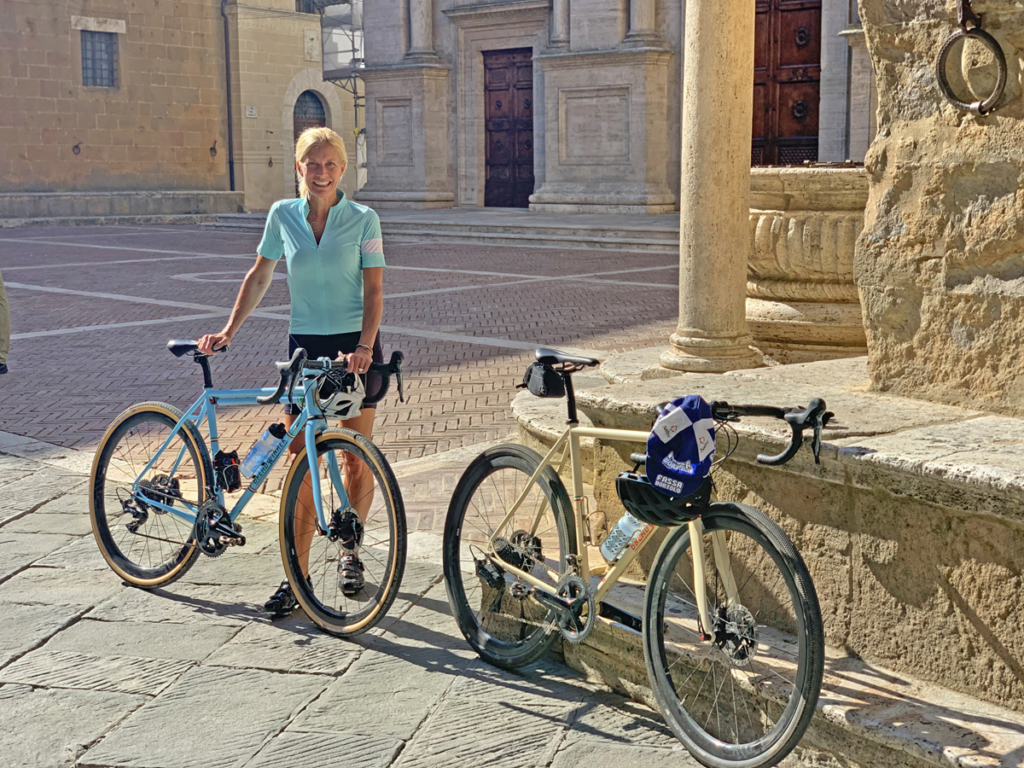 ---